Find out what to see and do when travelling or backpacking around Kenya.
Kenya highlights
Destination
Make a reservation

Nairobi

Nairobi (or Nai-Robbery as many dub it) is the first taste of Kenya for many travellers but is thankfully not a true representation of this amazing country. The city has a very dangerous side and travel alone is not recommended, day or night. The nearby Langata Giraffe Sanctuary and Elephant Park are a great chance to get extremely close (and sometimes hand feed) the animals. A popular place to eat is Carnivores Restaurant, which is a short drive by taxi, and offers safari meat on the menu.
Flights Hotels Hostels Tours

Lake Naivasha

Lake Naivasha, just north of Nairobi, has thousands of flamingoes and is also the place to enter the Hells Gate National Park for walking safari trips
Flights Hotels Hostels Tours

Elsamere

Elsamere, made famous by Joy and George Adamson and their lion cub, Elsa, in the film Born Free, has a great visitor centre with tea and cakes served on the lawn. Colobus Monkeys roam free around the grounds.
Flights Hotels Hostels Tours

Lake Nakuru National Park

Lake Nakuru National Park is considered one of the best sites in Kenya to view game. The soda lake is home to thousands of flamingoes but the park also has many Black Rhino, Lion, Zebra, Buffalo, and the odd Leopard.
Flights Hotels Hostels Tours

Masi Mara

The Masi Mara is the Kenyan side of Tanzania's great Serengeti NP. In July and August it is the scene of the migration of the wildebeest as 2 million travel north in search of wetter weather. Zebra intermingle and a significant number of predators follow too.
Flights Hotels Hostels Tours

Mombasa

Mombasa has some of the best beaches in Africa but beware of the Malaria risk here - it is very high.
Flights Hotels Hostels Tours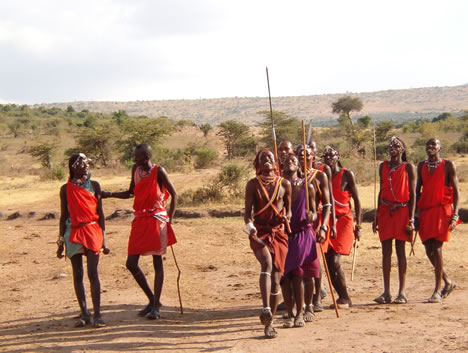 Main travellers routes
A lot of travellers fly into Nairobi and Mombassa.
Kenya's road network is fairly good on the whole but the buses can get extremely busy.
Bargain hard for taxis in towns and cities but they can be very expensive.
Most travellers to Kenya though get around with overland tour companies, often booked in advance. For many travellers these are the perfect method of transport for travelling around Kenya.
Capital and main cities
Nairobi
Other main populated areas include Mombasa and Nakuru
Languages
Currency
Visas (always check with your embassy)
Visa required for UK Tourists
Foreign Office Advice and safety
Flights and accommodation
Tours and day trips in Kenya