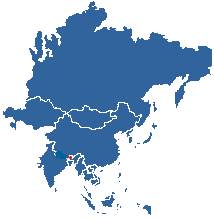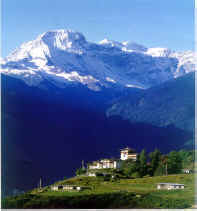 Spectacular scenery
Courtesy of Bhutan Lha-Yul Tours & Travels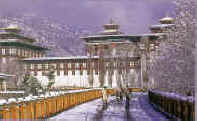 Thimphu
Courtesy of Bhutan Lha-Yul Tours & Travels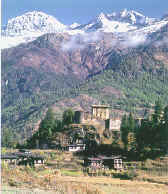 Drugyel Dzong, ruined fortress
Courtesy of Bhutan Lha-Yul Tours & Travels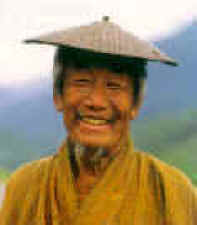 Bhutanese Man,
Courtesy of Bhutan Lha-Yul Tours & Travels
If you have any information you would like to share
with other travellers about this country, email it to:
Tourism in Bhutan is guided by the Department of Tourism who set the rules, regulations and tariffs for all international tourists. All International tourists are required to come through a government approved tour operator who do all the arrangement for the visit (e.g. . Bhutan Lha-Yul Tours & Travels). Contact your tour operator for travel costs. (Discounts may apply to students, groups & children. Please check with your operator).
Bhutan is a spectacular country in the Himalayas only seen by a relatively small number of tourists (only 7000 tourists in 1999).

The capital Thimpu is a photogenic mix of old wooden huts next to modern buildings. The Tashichho Dzong houses the Throne Room of the King of Bhutan. The Handicraft Emporium is also worth a visit. Other highlights include the National Memorial Chorten, the National Library and the weekly vegetable markets.

Paro is a beautiful valley home to many of Bhutan oldest temples and monasteries. This is very picturesque area with rice fields, orchards and traditional houses. Just north is the Drugyel Dzong, a ruined fortress. The Taktsang Monastery (Tiger's Nest), clings to a vertical granite cliff 1,000 meters above the valley floor.

Punakha, is the old capital of the Kingdom built on the convergence of two rivers.

The Wandue Phodrang is the gateway to central & eastern Bhutan and renowned for its slate and stone carvings & fine bamboo works.

Trongsa is the ancestral home of Bhutan's royal family. Due to its highly strategic position as the only connecting route between east and west, the Trongsa Penlop was able to control the whole of the eastern region effectively for many centuries.

Bumthang is home to the popular Jambay Lhakhang Drupchen festival.

Trashigang is the country's biggest district. Vividly coloured handloom cloth are a specialty of this area.
Flight access to Bhutan is limited to the national carrier, Druk Air (Royal Bhutanese Airlines). The main traveller routes to Paro are from Kathmandu, Bangkok, New Delhi and Calcutta. It is advisable to book at least 3 months ahead to guarantee availability.

Travellers must have pre-arranged travel plans to enter booked through a government approved tour operator.
Dzongkha is the national language

English is taught at schools and is widely spoken
Bhutan Jachung Travel - Offers cultural, trekking, and bird-watching tours in Bhutan, with special tours during the black-necked crane winter migration. Includes country info and travel tips


Bhutan Travellers - Adventure travel company known for providing personalized services to the clients. We offer services in Cultural Tours, Trekking, Bird Watching Tours, Festival Tours and many more within Bhutan.