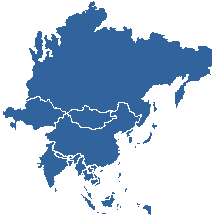 Indispensable book!
A must for any traveller serious about
getting the most from the Trans Siberian
You can buy this book online now
with Amazon.co.uk!
If you have any information you would like to share
with other travellers about this country, email it to:
The Trans Siberian. Ulaanbator ('UB') is a popular stop on the Trans- Mongolia Express. From UB it is also possible to travel out and stay in Ger Camps (pictured) which are traditional felt tents of the nomadic tribes.
Click here for Trans Siberian information.

Ulaanbaatar. Mongolia's capital city hosts the famous Nadaam Festival every year from 11 July through 13 July.
There are plenty of adventurous activities to do in Mongolia. These include: Horse Riding, Trekking, Jeep Safari, Camel Safaris, Craft Tours, Desert Expeditions, Fishing Tours, Festival Tours and Home Stay/Exchanges.
Eagle Festival Tours combined with culture of minority ethnics.
Wildlife conservation - conserving Snow Leopards in Mongolia
A popular adventure tour is the Gobi Desert Adventure Jeep Safari Expedition
Other highlights include:

South Gobi

West Altai

Khovd and Olgii,

Khovsgol Lake National Park

Mystery of Karakorum

Khentii Natiev Land of Chingiss Khaan.

For further information on Mongolia and for reservations and bookings for train and air tickets for domestic and International departures contact:
GOBI EXPEDITIONS MONGOLIA
PO Box 438
Ulaanbaatar 210524
MONGOLIA

Fax: (976) 11 322733
Tel: (976) 99 193859
E-mail: gobiexp@mongol.net
www.traveltomongolia.mn
Most travellers will either arrive by train from Russia or China on the Trans Siberian or they arrive at Ulaanbaator by plane.
It is also possible to arrive as part of an overland tour.
Khalkh is the most commonly spoken dilect. (Used by around 70% of the population).

Other dilects: Kazakh, Buryat, Tuva, Urinkhai