Find out what to see and do when travelling or backpacking around Russia.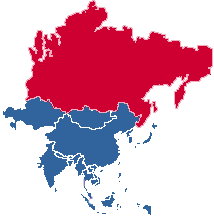 Russia highlights
Destination
Make a reservation

Moscow

Moscow is the capital of Russia. It's a Russian city and at the same time it's different from the rest of Russia. It's ancient and it's modern. It's beautiful and it's ugly. It's hectic and it's calm. It's cold and it's hot. It's many different things at once, and it's in Russia. The most touristic spots are Kremlin - an ancient castle, there are some cathedrals and Palace of the President inside and Tverskaya street - the main street of the city - large avenue: many cars, people, shops, lights. Good thing to do is just to walk around the city along small streets in the centrum, you can also go to various parks and forests inside Moscow. Residential areas and suburbs are for those who want to see how and where most of the local people live. More about walking around Moscow
Flights Hotels Hostels Tours

St-Petersburg

St Petersburg is the second important city of Russia. This city had been the capital of Russia for 300 years, until the communist revolution. St.Petersburg was built like a symbol of Russia, but it's 100 percent untypical Russian city, because of its unusual (European) architecture and structure. St.Petersburg is sometimes called "North Venice" because there are so many canals. Major attractions are: Troitsky bridge - you can see the city's central part, the river, slow, dark and cold, Admiralty Tower, St. Isaac's Cathedral, Peter and Paul Fortress. Nevsky Prospect - the main tourist street of the city. Vasilyevsky Island. By the way St.Petersburg is the most northern city of the world with more than one million inhabitants (total 5m)
Flights Hotels Hostels Tours

Novgorod

Novgorod is the foremost town in the north of Russia. Novgorod was one of the first republics in Europe since Rome became an empire. Democracy was settled here when Wilgelm the Conqueror ruled Britain. It was one of the richest towns in the north of Europe in the mid centuries, and one of the four main cities in the Hansa - the commercial union in the mid-centuries, all the powerful towns in the north of Europe were in it, and even kingdoms like England or France respected it abundantly. As Novgorod was a rich city it had enough money to be a beautiful city and it was - and what is more wonderful, it still is. Old city is kept intact, there's very beautiful architecture, many old monasteries, the Kremlin and spectacular nature just outside the city. Novgorod region is a very ecologically clean area and there are many lakes and untouched forests around there.
Flights Hotels Hostels Tours

Trans-Siberian Railway

The Trans-Siberian Railway (TransSib) is a great rail route, which is connecting Europe and Asia, crossing the whole continent. It was built during 1891-1916 to protect Russian Pacific ocean territories. The main route of TransSib: Moscow - Yaroslavl - Kirov - Perm - Ekaterinburg - Tumen - Novosibirsk - Krasnoyarsk - Ulan Ude - Khabarovsk - Vladivostok. The length of the railway from Moscow to Vladivostok is 9288km (the worlds longest railway). More about the Trans Siberian
Flights Hotels Hostels Tours

Volga River

Europe's longest river - the Volga (3530 km). You can tour down from Moscow to Caspian Sea along the Volga river and you'll see dozens of Russian ancient towns with their specific architecture, you'll see in the small towns another Russia which is very different to Moscow. Even people there are different - more calm and friendly, besides they have their peculiar accent.
Flights Hotels Hostels Tours

Karelia

Karelia is a republic located in the Northwest, not far from St. Petersburg and Moscow. It has a long border with Finland in the west, Arkhangelsk and Vologda regions in the east and south. The capital is Petrozavodsk, established by Peter the Great in 1703. Due to the sparse habitation, Karelia preserves territories of pristine nature. It is a popular place for water travels (rafting, canoeing, boating), fishing, and hiking. Wildlife observation is fascinating, especially birdwatching and whalewatching. There are a lot of cultural attractions in Karelia. Kizhi is a world known museum of wooden architecture situated on an island in Onego Lake. Besides, there is functioning Valaam Monastery in Ladoga Lake, first mentioned in 960 year AD, petroglyphs - pre-historic rock carvings on the shores of Onego Lake and of the White Sea - made more than 4 thousand years ago. From Karelian shore of the White Sea, it is easy to reach Solovetsky Islands - a monastery in the Middle Age, later Stalin's prison, infamous Gulag Archipelago, now - a museum. More at Nordic Travel and WaytoRussia
Flights Hotels Hostels Tours
Main travellers routes
By plane from Europe to Moscow (around $300 return). All planes land in Sheremetyevo II airport.
Also by bus or train (around $100 return from Berlin, Germany). If coming through Belorussia, a transit visa is required.
Good way to avoid the visa hassles is to go through the Baltic states.
More information about how to get to and from Russia is at http://waytorussia.net/Transport/
Capital and main cities
Moscow, 30 km by 30 km. Around 9 million inhabitants.
Languages
Russian is the national language.
Other languages spoken in some areas are: Tatar, Ukrainian.
English is taught in schools and many young people speak English, especially in big cities.
Currency
Roubles (RUR) 29 Russian roubles = 1 US dollar. 40 roubles = 1 British pound. More
US dollars are the easiest currency to exchange to roubles everywhere in Russia.
Visas (always check with your embassy)
Visa required for everybody, except people from some former CIS (Commonwealth of Independent States - former USSR) republics.
Costs from £30, takes at least 6 days to arrange. Note, that to process it you need an invitation.
When you come to Russia you need to register within 3 days.
More information about a Russian visa, an invitation and registration is at http://www.waytorussia.net/Trip/RussianVisa.html
Foreign Office Advice and safety
Flights and accommodation
Tours and day trips in Russia
Further Russia resources
Contributed by Dmitri Paranyushkin at WayToRussia.Net
Next: Planning a trip to Russia