To help you speed up your planning process, here are some of the RTW myths shattered.
'Open tickets' means I can change anything at anytime
Open tickets are not really as open as you think.
All RTW tickets must have the route sorted before you depart and will also have specific dates printed on the flight tickets.
This doesn't mean, however, that you will not be able to change these dates en-route.
Dates on round the world tickets are usually totally flexible but changes to the route almost always incur a charge and must be within the rules and mileage of the oringal ticket.
Backtracking
Backtracking is allowed - but only on certain tickets.
Small backtrakcing is common for transiting purposes but major backtracks can be included on such round the world flight tickets as the OneWorld and Star Alliance if it keeps within the mileage or permitted number of stops rulings.
This typically means that you can backtrack within certain regions though. For example, in Asia:
London - Tokyo - Hong Kong - Bangkok - Mumbai - Singapore - Sydney and so on....
Flying between Australia and the Americas
Flying between the Americas and Oz/NZ is a common problem when it comes to putting people's round the world plans into reality.
So far there are only 4 major 'gateways' (or flight access points). These are as follows: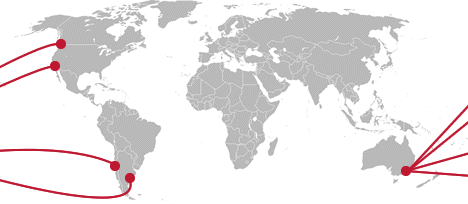 Los Angeles - Sydney / Auckland
Vancouver - Sydney / Auckland (via Hawaii)
Santiago - Sydney / Auckland (via Tahiti)
Buenos Aries - Sydney / Auckland
This means that if your planned destination is Central America or northern South America you will either have to pay for an extra internal flight or make your own way overland.
Linking Africa and South East Asia
Linking Africa with India or SE Asia is only feasible on certain round the world tickets such as the Star Alliance, Navigator and the Global Explorer ticket. This is due to the airline's networks or flight routes. Access points are as follows:
Nairobi - Asia (via Dubai or direct to Bombay)
Jo'burg - Asia
Harare - Asia (limited)
I can change the name on my tickets to a friend
Changing the name on the ticket is NOT allowed.
If you decide you do not want to complete the trip you can not change the name on the ticket to someone else's which means you are unable to sell it.
Depending on the fare and rules you may get a partial refund on unsed flight coupons, but you will have to check with the local office of the airlines you are flying with. Do this BEFORE the date on that flight because if you miss the flight you have lost your money and invalidated the ticket.
Check prices of RTW flights online: