Find out what to see and do when travelling or backpacking around Peru in South America.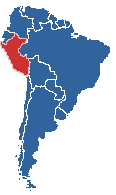 Peru highlights
Destination
Make a reservation

Lima

Lima is a busy polluted city but offers a vibrant experience with plenty of history and amazing architecture.
Flights Hotels Hostels Tours

Cuzco

Cuzco is the travellers centre and once the home to the Inca empire. A beautiful town with plenty of things to fascinate a traveller. It is also the access point for Machu Picchu and the Inca Trail.
Flights Hotels Hostels Tours

Machu Picchu

Machu Picchu and the Inca Trail is a must for any traveller or backpacker wanting to learn more about the Inca past. A 4 day trek through the Andes culminates with an awe-inspiring view of Machu Picchu's ruins at sunrise from the Sun Gate. (A quicker 1 day trip can also be arranged without the Inca Trail by travelling by train).
Flights Hotels Hostels Tours

Lake Titicaca

Lake Titicaca is a beautiful lake high on the Altiplano. Puno, on the Peruvian side, is home to the floating islands.
Flights Hotels Hostels Tours

Colca Canyon

Colca Canyon is an enornmous canyon in southern Peru which is a great place for spotting Condors. Visit Colca after a stay in Arequipa.
Flights Hotels Hostels Tours

Nazca Lines

The Nazca Lines are spectacular enigma, best seen from the air.
Flights Hotels Hostels Tours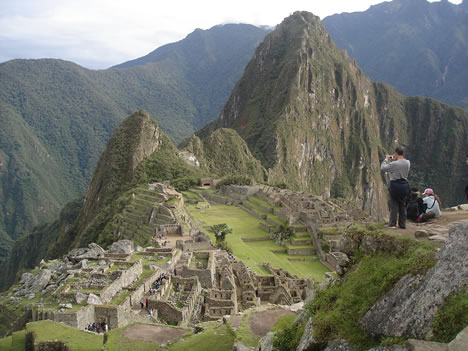 Main travellers routes
Lima is the largest airport but can be tricky to include on a round the world ticket.
Most travellers arrive in Peru overland from the neighbouring countries of Bolivia, Chile, Columbia or Equator.
Buses are cheap but long, uncomfortable trips are the norm.
Rail travel is also cheap and can be a lively fun experience.
Internal flights can be extremely expensive.
Capital and main cities
Languages
Spanish
Little English is spoken in Peru but probably more than neighbouring countries like Bolivia.
Currency
Visas (always check with your embassy)
No visa requirements for UK tourists for a stay of up to 90 days
Foreign Office Advice and safety
Flights and accommodation
Tours and day trips in Peru
Next: Planning a trip to Peru